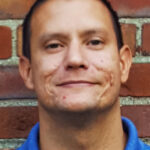 ROBERT'S STORY
I was living aimlessly and without hope. My mind was always filled with depression and self-pity.
Due to my drug use, I lost my job and my residence. I had nowhere to turn, when my faithful parents suggested Life Challenge. They had heard about the program from someone at their church.
I've always had a belief in God, but never had built a relationship with Christ until I came to Life Challenge. I have spent time listening to sermons and meditating on the Word and I talk to God by praying and opening my heart to receive Him. 
Since being in the program, I have been more active. My mind has been refreshed and I can process more clearly. I'm also becoming much more social and understanding.
My favorite scripture is Ephesians 6:10-11 "Be strong in the Lord and in His mighty power. Put on the full armor of God so you can stand against the devil's schemes."
GIVE A GIFT OF HOPE ON GIVING TUESDAY, DECEMBER 3!
Please consider Life Challenge (Adult & Teen Challenge Detroit | Flint | Women's Center) for your Giving Tuesday charitable donation! We are a non-profit, faith-based 501c3 charity organization…and we rely solely on the generous support of people who believe in our mission of hope, healing and help for those stuggling with addiction.
You can be a part of the beautiful stories of recovery and restoration (like Robert's!) for individuals, families and communities devasted by addiction. Thank you and God bless you!
WAYS TO GIVE
Click here GIVE HOPE to give any amount (online)
Text CRUSH to 20220 to give a $25 gift (paid via your mobile service carrier)
Text CRUSH to 56512 to give any amount (via credit or debit card)