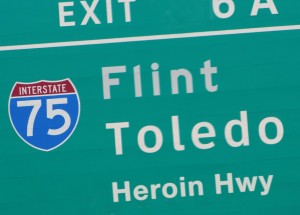 There is a drug epidemic in northwest Ohio and southeast Michigan! Every time you turn on the news there are stories about the steep increases in heroin and opioid use, overdose deaths, drug trafficking and related crime in cities, suburbs and rural areas, destroying individual lives, families and communities. The I-75 corridor from Toledo to Flint, known on the street as Heroin Highway, is the epicenter of this crisis.
NEXT EXIT: TOLEDO
The Life Challenge Ministries main facility has been operating in Detroit for over 50 years, with a campus in Flint as well. Now, we are setting up camp on another frontline of the drug war—right along Heroin Highway— with a new Crisis Referral Center in Toledo. For many months, we felt the pull as God set His sights and our focus on Toledo. As often happens, this calling came in the midst of a time of great testing in the ministry. 'Why expand?' the internal and external voices wondered. 'Why not be safe and simply shore up what you already have?' But by faith we pursued and persevered, because this is His ministry and we will go wherever He sends.
So Life Challenge is expanding its tent stakes. That does not look like beefing up, bulking up, saving up and showing up large-and-in-charge. On the contrary it looks like pouring out, praying up, spreading thinner, giving away and coming in all humility to serve those struggling with addiction and partner with those already working with them. It also looks like LC graduate Martin Hall transitioning from a successful career and uprooting his family to relocate and serve as director of the Crisis Referral Center in Toledo. God has called Martin to be the face, voice and hands of the Crisis Referral Center, and to facilitate referrals and placements in Life Challenge/Teen Challenge programs. When you read his story you will understand why.
HIGHWAY TO HELL
As Pastor Jeff Bonzelaar (LCM Executive Director) and his team of directors and leaders prayed, explored and planned, the urgent need to help those struggling with addiction in the Toledo region was starkly evident. Now it was not just stories on the news. As the team connected locally, they saw and heard firsthand the heartbreak and tragedies. A young woman in Monroe, addicted and pregnant, dying of an overdose. A homeless man in Toledo trapped in the brutal cycle of alcoholism for decades, ready to give up. The ditches of Heroin Highway are littered with broken, desperate people, in need of a Good Samaritan to stop and offer care, deserved or not. Heroin Highway could rightly be called the Highway to Hell, because addiction (whatever form it takes: heroin, alcohol, prescription drugs) only ever offers up an endless, hopeless parade of real people bound by sin, stumbling along in darkness. Each one a precious, priceless soul in our Lord's eyes, headed for an eternity in hell. All in need of the Savior.
CALLED TO RESCUE, REDEEM AND RESTORE
That is where Life Challenge comes in. Rescue those bound by addiction! But here is the caveat. We are not a rehabilitation center. That may be puzzling given our mission statement: 'Life Challenge Ministries provides hope, healing and help through Jesus Christ for men and women with drug, alcohol and other life-controlling addictions'. The mission of Life Challenge is far more than simply seeing addicts and alcoholics get clean and sober. We are called first and foremost to help people find new life in Jesus Christ. And then to serve, teach, guide, love them to a restored mind, body and spirit and a hope-filled, addiction-free future.
WHOSOEVER
Our program is open to men and women 18 or older and is 100% voluntary. Residents may come of their own accord or are guided by concerned family members. We also have those referred by clergy and chaplains or through other recovery programs or rehabilitation facilities. We welcome individuals who come through the judicial system, out of the corrections system or choose LCM as an alternative to incarceration. We receive no federal or state support, yet ask only a nominal induction fee of $700 with no medical insurance required.
A HIGHWAY CALLED THE HOLY ROAD
So many lost souls on that Highway to Hell, in need of rescue before it's too late. They are the reason Life Challenge is in Detroit, in Flint, and now in Toledo. To snatch them up, rescue them and introduce them to the One and only answer: Jesus Christ. To set them on a new highway to heaven, a holy road! As long as the cries of the lost echo in this world, Life Challenge will ever go after them.
Isaiah 35:8,10 There will be a highway called the Holy Road…The people God has ransomed will come back on this road. They'll sing as they make their way home to Zion, unfading halos of joy encircling their heads, welcomed home with gifts of joy and gladness as all sorrows and sighs scurry into the night.