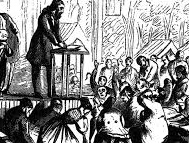 A nationally known evangelist was preaching at a church when he said, "The world is going to hell and most of you don't give a damn." He paused. Then he continued, "And you know what's even sadder? Most of you are more upset that I used the word 'damn' than you are that people are dying and going to hell."
I suspect that that would be the reaction in most congregations. It certainly was my reaction, sorry to say.
I pride myself on being a good person:
• I pay my taxes.
• I vote.
• I've been with one woman over 25 years.
• I've been actively involved raising my four sons.
• I've been a basketball coach with the local YMCA.
• I keep up my yard.
• I don't watch bad movies.
• I don't drink or smoke or . . . cuss.
So naturally I was appalled when I heard a preacher use profanity (especially behind the pulpit). But he pulled the rug from under me. I fell hard and had a concussion of sorts. I say I care about those outside God's family. I am an ordained minister. I regularly call people to faith at the end of my messages. I have devoted my entire adult life to serving drug addicts and alcoholics.
But that preacher got me thinking:
• When was the last time I had a non-believer in my house (and the plumber doesn't count)?
• How many meaningful conversations have I had with non-Christians this week?
• How many unbelievers do I pray for every day?
• When was the last time I shared my faith with a stranger (say, at Starbucks or the airport)?
• Has my giving to missions been increasing?
I don't have good answers for most of those questions. I have my moments but, for the most part, I fall miserably short of what it means to be a "fisher of men." When Christ called his first disciples, He didn't say, "Come, follow me, and I will make you prayer warriors or good Bible students or productive citizens." No, He said, "I will make you FISHERS OF MEN" (Matthew 4:19).
Jesus was saying, "If you follow me, I am going to change what you do for a living. I'm going to change who you are—your very identity—to the point where your entire life becomes centered on my one single mission, and that is to bring others into a relationship with the Father."
"Most men are not satisfied with the permanent output of their lives. Nothing can wholly satisfy the life of Christ within his followers except the adoption of Christ's purpose toward the world he came to redeem. Fame, pleasure and riches are but husks and ashes in contrast with the boundless and abiding joy of working with God for the fulfillment of his eternal plans. The men who are putting everything into Christ's undertaking are getting out of life its sweetest and most priceless rewards." (J. Campbell White, Secretary of the Layman's Missionary Movement, 1909)
Christ came to seek and save the lost (Luke 19:10). As he was sent, so he sends us (John 17:18). His final words to his disciples were: "All authority in heaven and on earth has been given to me. Therefore go and make disciples of all nations, baptizing them in the name of the Father and of the Son and of the Holy Spirit, and teaching them to obey everything I have commanded you."
Lost people matter. The Bible tells us that "God so loved the world that he gave his one and only Son, that whoever believes in him shall not perish but have eternal life" (John 3:16). But "how can they believe in the one of whom they have not heard? And how can they hear without someone preaching to them?" (Romans 10:14) Therefore, we must "go out to the roads and country lanes and make (lit., compel, drive, force) them come in, so that (his) house will be full" (Luke 14:23). This is not optional. This is our commission.
People are going to hell. Do you give a da…I mean a rip? (see, I still can't bring myself to say it!)