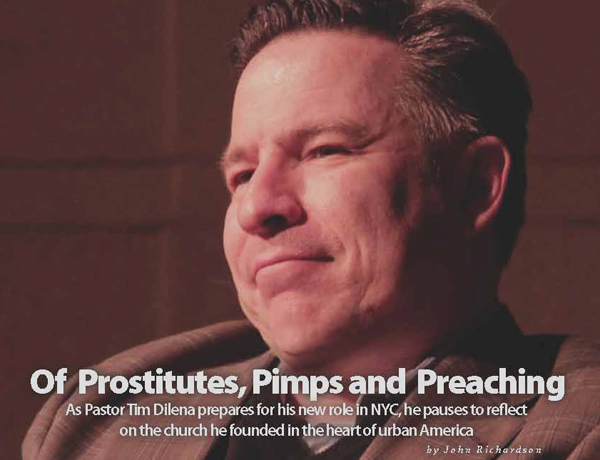 Kimoochi, her street name, was one of many prostitutes who plied her trade along Woodward Avenue just south of Six Mile Road. In this part of town, Six Mile is known as McNichols. It defines the northern border of Highland Park. This is where one would venture, coming south from say, Birmingham or Bloomfield Hills, if one wanted to just dip his toes into the city. It's the gateway to Detroit and a XXX movie theater always thrived there, the lurid light of its marquee offering a loud welcome to the night, a complement to rather than a competitor of Kimoochi.
But in 1994 things suddenly changed for this part of town. Things changed for Kimoochi. One night she went into the theater to rest, as she had on countless other nights, but this time she heard something strange, something unexpected, something she'd never heard before. She heard preaching. A youthful pastor from New York by way of Texas, Tim Dilena, had claimed the building in the name of Jesus Christ and he was determined that the gospel would be heard by all who came, beckoned now by the light of the truth.
What was once a sink of sin was now a sanctuary of hope and it became Kimoochi's refuge. For the rest of her life, just three years before her body finally succumbed to the ravages of her early drug use, she would worship there, a new woman in Christ, pure as the driven snow, washed in the blood of Jesus.
Hers is one of a hundred stories that Tim Dilena could tell recounting the history of miracles at Revival Tabernacle, the church he started in the heart of the city. The stories are all about the wonderworking power of Jesus Christ.
[nggallery id=2]Pastor Tim will soon be leaving his beloved church. He's been called to New York City. It's not easy for him. When he was asked by Pastor Jim Cymbala to join the ministry at Brooklyn Tabernacle, his first call was to his old mentor, Dave Wilkerson, the man whose ministry was the inspriation for the best-selling book,
The Cross and the Switchblade
. Tim turned to him for confirmation. After all, he grew up under Dave Wilkerson's leadership. His first memories were of life in Brooklyn where Pastor Wilkerson began his street ministry, where Paul Dilena, Tim's father, first met him and became a lay leader; where gang-leader Nicky Cruz, fresh off the street, got saved. Nicky, of course, went on to become a director of Teen Challenge. This is where it all began and Dave Wilkerson said just three words to Tim: "It is God."
Tim Dilena is leaving behind a healthy church that reaches out to the community with God's love. "It's in good hands," he says, "I wouldn't have done my job if I couldn't say that. Kevin Ramsby will continue to lead this church, impacting the Highland Park community in powerful ways." Kevin joined the Revival Tabernacle ministry staff in 2005 after pastoring Solid Rock Assembly of God on the eastside of Detroit for four years. Just like Tim Dilena, Kevin lives in the community where he ministers. "That's important," says Tim, "because real authority comes from long-standing commitment and endurance in the community, not just from a fresh anointing."
Tim Dilena's connection to Detroit began in 1984 when he came at the request of Gary Wilkerson, Dave Wilkerson's son. Gary was starting a church in Detroit and needed "short-term help" in the Cass Corridor mission field. Tim was attending Baylor University at the time and had every intention of returning to school. But God had other plans. He laid a burden on Tim's heart and he stayed, eventually graduating from Wayne State University. He labored for eight years at the Cass Corridor Church, preaching the gospel to street people, prostitutes and pimps.
In 1992, Gary was headed to London, leading a team to start another church. Tim planned to go with him. He sold everything, "even the mattress," he says. He had his passport, even the plane ticket. But he didn't get the call. For whatever reason, he knew he wasn't going. Now, he was suddenly "in between" callings, waiting, listening for what he was to do next.
From a certain point of view, Tim had three strikes against him for ministry in the city: he was young, he was single and he was white. Nevertheless, he knew he was supposed to be in Detroit, that he was led there and that God would open a door. He was offered a post at Life Challenge by Cal Bonzelaar, Jeff's father. He was offered an existing church by Bill Leach, Michigan AG District Superintendent. A post was open at a Spanish-speaking church and another at a church for the deaf. "I knew that God had something else in store for me, I needed to wait."
He didn't have to wait long. He put it all on God and started Revival Tabernacle. Now, almost two decades into its ministry, Revival is a multi-cultural, multi-ethnic, international house of worship. The pulpit ministry is heard in 45 states around the US and in over 30 countries around the world. On Sunday night Revival is the church home for the students of Life Challenge. And though Tim is still white and still young (48), he's no longer single. So with wife Cindy and their four children, Christian Paul, Anna Sophia, Grace Elizabeth and Lauryn Gwen, he will be packing up (including the mattress) and moving back to Brooklyn where it all began. "The Spirit of the Lord is upon Me, because He has anointed Me to preach the gospel to the poor; He has sent Me to heal the brokenhearted, to proclaim liberty to the captives and recovery of sight to the blind, to set at liberty those who are oppressed; to proclaim the acceptable year of the Lord" ( Luke 4:18–19).  Amen.