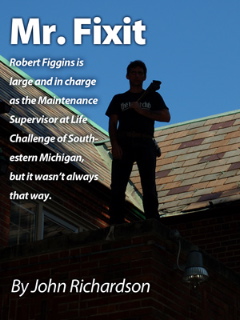 Robert Figgins matter-of-factly assesses his past: "I didn't care whether I lived or died. I was a mess and thought I couldn't be fixed."
It was as simple as that. Unfixable. What more really needed to be said? In those days, having grown up in a broken home in Western Michigan, first with his father, then pawned off to his mother, then out into the street, angry, unhappy, screwed up; life for Robert was anything but under control. Along the way, he had learned a few things, enough to get by. He even managed to learn a trade, roofing, but it suddenly seemed pointless. His girlfriend was pregnant and she didn't want his baby. She had an abortion. Simple. Matter of fact.  Out of control.
"I was filled with guilt and anger. I found that using drugs helped the pain."
By all accounts Robert was a wreck, completely broken, as he saw it, by bad luck.  And as it so happens, that's just the way we like them at Life Challenge.
After a short time in the program, Robert learned that "God created me for a purpose and loved me just as I am." Robert lost that guilty feeling that destroys the human heart. He slowly learned how to love and be loved. He graduated in 2006, completed an internship, joined the staff and is now, in a beautiful irony, in charge of fixing things.
In 2007, while fixing a bathroom in the Miracle House (that's what we call one of our properties–it was a gift; today it's one of our women's residences), Robert had to talk over the plans with Sister Velvet Parter. Velvet Parter, also on staff at the time and a recent graduate, was working in the Women's Division. She needed to give Robert some direction. As it turns out, she knew exactly what she wanted. That is to say, she knew what needed to be done.
It was a long project. There were a lot of details to talk over. Of course this meant visiting the job site often. Quite often. According to Velvet, after a time she sensed that Robert was falling for her, but waiting for Robert to sense it was like waiting for paint to dry. So Velvet drew a picture for him, "Hey," she said, "is it my imagination, or is there something going on here?"
It wasn't her imagination. Raised by her grandmother in Arkansas, Velvet was the oldest of two girls. Her mother couldn't handle two girls; one maybe, but not two. She rarely saw her father and her earliest memories are of the physical pain of sexual abuse by her uncle and some of his friends. She was two years old when it started. She doesn't remember when it stopped.
By age thirteen Velvet was leading a promiscuous life. She spent her early teens  "looking for someone to love me" and by fifteen she was pregnant. She gave birth to a baby boy. Fifteen years later, her son was killed selling drugs, "doing what I taught him," she says. For the next twenty years, from the time her son was born until she was 35 years old, Velvet was lost in cocaine addiction. During that time she had three more children, crack babies, all taken away from her and put up for adoption.
"I am a new creation in Christ", she says today. After entering the program Velvet found the one true love she looked for as a child. Jesus' love. When she met Robert she found someone who knew that same love. It wasn't her imagination. There was a connection with Robert and they both knew it.
So began their courtship. Of course, at Life Challenge this means no unchapperoned meetings, strict dating rules and letter-perfect accountability. Velvet says Robert wasn't always happy about the chapperone business, but he didn't fight. They wanted to get it right–to fix things once and forever. And a year later they did just that. Velvet says if she had to do it all over again, the courtship and the wedding, she would do it exactly the same way.