The Flint Campus of Life Challenge Ministries now offers up to one year of recovery! A big part of our program is going to different churches around our community, sharing the healing power of Christ through testimonies, songs and spoken word.
Rally Time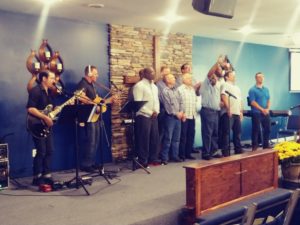 !
Sean (pictured far left) is the lead in our Flint LC Band. Sean was living down in Nashville 6 months ago while attending school. He had never led worship before coming to Life Challenge. His addiction to alcohol overpowered him and his family recommended he come to Life Challenge.
Taking a break from school and coming to LC, Sean shared, "Being here has brought me back to the cross." Sean now sings to glorify the King of Kings! To hear more testimonies join us at a rally near you. You can go to lcm.life and click on Events, then click on Rallies. Another way to show your support is by helping us schedule a rally at your church or event.
Community Outreach
We were excited to be part of building a playscape for kids in the community at Flint Sarvis Park. In addition to building a relationship with Jesus our residents get to take part in serving others.
Praise Report and Ministry Needs
A local business blessed our campus with new flooring! We received 6,000 square feet of tile for our center from our generous friends at ACI Plastics. New Life Christian Fellowship has donated funds to get us started on tiling our cafeteria. But we still need more materials which include grout, tile backer board, and plywood, and we are looking to raise funding for this project. We want to keep our campus nice-looking and have a clean, safe environment for our residents to recover in. All donations for the building project should be marked "Flint Building Restoration".
We are also in need of a good running vehicle for staff transportation. We're looking for a safe, clean car to be used by staff for meetings, shopping, and appointments. We give the fair Blue Book value on all vehicles donated to Life Challenge Ministries.
Thank you for your prayers and support!
Phil Hall
Director of the Life Challenge Flint Campus