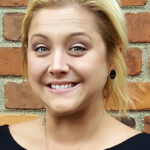 CORTNEY'S STORY
I lived my life trying to fill the emptiness inside. Anything so I didn't have to feel. I was homeless for a year. I was in a physically, emotionally, and mentally abusive relationship. I felt unworthy of love, rejected and never good enough. I was a hopeless failure, a prisoner, a captive of fear!
I was contemplating suicide, alone and scared. I reached out to the only Christian I knew for help, and that led me to Life Challenge. Since coming here and receiving Jesus Christ as my Savior, the Holy Spirit now dwells within me! I've been redeemed! I am on fire every day for the Lord. I now belong. 
Being in the Word of God allows me to feel alive and helps me build a relationship with Jesus. I am no longer fearful and I've been set free from shame. I know what love is–and what it isn't. I have an indescribable hope for my new life. Glory to God!
My favorite scripture is 1 John 4:18-19 "There is no fear in love. But perfect love drives out fear, because fear has to do with punishment. The one who fears is not made perfect in love. We love because he first loved us."
GIVE A GIFT OF HOPE ON GIVING TUESDAY, DECEMBER 3!
Please consider Life Challenge (Adult & Teen Challenge Detroit | Flint | Women's Center) for your Giving Tuesday charitable donation! We are a non-profit, faith-based 501c3 charity organization…and we rely solely on the generous support of people who believe in our mission of hope, healing and help for those stuggling with addiction.
You can be a part of the beautiful stories of recovery and restoration (like Cortney's!) for individuals, families and communities devasted by addiction. Thank you and God bless you!
WAYS TO GIVE
Click here GIVE HOPE to give any amount (online)
Text CRUSH to 20220 to give a $25 gift (paid via your mobile service carrier)
Text CRUSH to 56512 to give any amount (via credit or debit card)