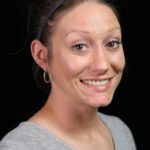 I was a fugitive on the run living life to the extreme. The only thing I saw in my path were broken pieces created by 15 years of heroin. I created storms searching for answers I couldn't find. I felt lost, helpless, living in darkness.

Once again, I found myself alone, wearing stripes and hearing slamming doors. Disappointment was all I expected, but fortunately people still cared and answered my calls. An amazing friend of mine had graduated Life Challenge, and completely changed her life. I began asking questions, remembering someone once told me I was not spiritually fit. That's why I kept searching for comfort I couldn't find. My only thought was, "This is what I'm missing."
Since coming here I have found a relationship with God that fills that void. I have become a new believer in Jesus Christ! I have hope and encouragement, a strength that is with me to walk through life.
My favorite scripture is 1 Peter 1:6-7."In all this you greatly rejoice, though now for a little while you may have to suffer grief in all kinds of trials. These have come so that the proven genuineness of your faith of greater worth than gold, which perishes even through refined by fire may result in praise, glory and honor when Jesus Christ is revealed."
*************************
Life Challenge is a 501C-3 non-profit, faith-based addiction recovery program. Because
we receive no federal, state or local government funding, we rely on your generous support to make stories like Andrea's possible. To make a donation click here –> GIVE HOPE
or text LCMHOPE to 28950. Thank you and God bless you!